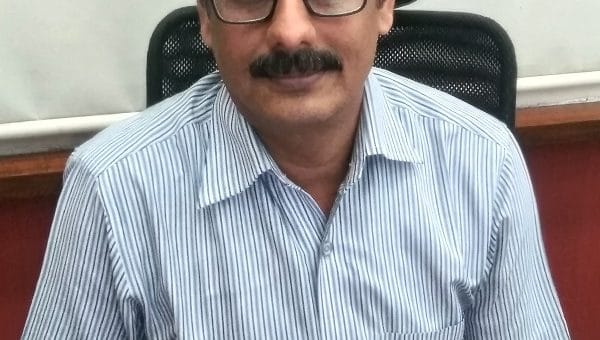 QUALIFICATION : MASTERS IN SCIENCE (ELECTRONICS & APPLIED PHYSICS)
P.G.D.C.S. IN SYSTEMS
DIPLOMA IN PERSONNEL MANAGEMENT AND WELFARE.
STARTED CARRIER AS A SOFTWARE DEVELOPER IN 1988. ESTABLISHED "SOFT TRACK" IN 1991-92. JOURNEY CONTINUOUS FROM DOS TO VB,
C-SHARP (WITH SQL).PRESENTLY PERFORMING MULTI DIMENSIONAL ACTIVITIES MARKETING, COORDINATION BETWEEN CLIENTS AND
TEAM (DEVELOPMENT) AND IMPLEMENTATION. ALWAYS HAVING EYES ON QUALITY OF THE PRODUCT BEING SERVED. UNDERSTANDING CLIENT'S
NEED PROPERLY AND INSURING DELIVERY OF THE RIGHT PRODUCT.SOFTWARE DEVELOPMENT IS HOBBY, THEREFORE INVOLED IN THE PROCESS.
HAVING 27 YEARS OF EXPERIENCE OF SYSTEM ANALYSIS & DESIGN OF VARIOUS INDUSTRIES. SOME OF THEM ARE PACKAGINGS, INDUSTRIAL
FILTER BAGS, PATHOLOGY, TRANSPORTATION, RETAIL OUTLETS, CONFECTIONERY, AUTOMOBILES, C&F, BROKERAGE FIRMS (GRAIN & PULSES),
TEA BUSINESS, TENT HOUSE, PULSES AND FLOUR MILLS, FINANCE (LANDINGS). BELIEVES IN "HONESTY IS THE BEST POLICY".
IF CHARGING 1 RUPEE TO THE CUSTOMER,DELIVER NOT LESS THAN 1.1. MOTTO HAS NOT ONLY TO EARN MONEY, BUT ESTABLISH SOCIAL
& MORAL VALUES. ALWAYS BELIEVES IN "TEAM WORK". CREDIT OF ACHIEVEMENT SHOULD NOT BE CONFINED TO AN INDIVIDUAL BUT TO TEAM.
Posted by soft_admin
On August 26, 2015
0 Comments